Here is the third out of (currently) four parts to a few Top 10 lists I wanted to do for the Pauper Cube.  Enjoy my picks for First Pickable Instant cards in a Pauper Cube and let me know what you think in the comments.
MUTAGENIC GROWTH
This is not exactly Giant Growth in terms of raw power but it is on a different power level altogether.  It can go into any deck and fit multiple roles.  It can act as a shield for a creature getting shocked, it can help beat a creature that's attacking or blocking, or can it can be a green Shock to kill an opponent after blocks are declared.  The best part, they never see it coming as you dont have to pay mana to cast it. Thank you Wizards for broken free spells.
DOOM BLADE
The one and only.  This is an upgrade to the original card, Terror.  This pretty much kills anything and is easier than Terminate to cast.  The mana cost makes it splashable so take some mana fixing and slice through an opponents creature like butter (as long as they are not black).
WAIL OF THE NIM
Everyone always passes this card late but I am here to spill the beans.  It is a one sided wrath most of the time on its own or it definitely is during an attack or block.  I have blown people out with this and yet they still don't understand how powerful of a spell Wail of the Nim really is.  I talked about Crypt Rats being first pickable and this is on the same level.
LIGHTNING BOLT
1 Mana for 3 Damage at instant speed.  SHIP IT!  A card from the beginning of Magic time and it still gets compared to every new "good" red burn spell.  This was the original and is still a house.  Im glad they brought it back for a short time in Standard after a long hiatus.  I think the players showed Wizards that it is a fairly balanced card since the power level of creatures continue to rise.
RAY OF COMMAND
This card is totally insane and its BLUE!  This ability is now pretty much a red mechanic but it is an old card first printed in Ice Age.  Way back when there was no color pie definition of what each color should and shouldn't be doing and this is a prime example of that.  Ray of Command can just win you the game by either taking their best guy and attacking with it or using an insane ability on a card.  Not to mention, if you opponent is threatening lethal you can "borrow" one of his attackers and have it block another one of his guys for the complete blow out.  Again, like with every other awesome card, this is easily splashable and should make every draft deck you make.
CLOUDSHIFT
Cloudshift is a new card from Avacyn Restored and I am ready to keep trying it out.  So far the verdict is in: First Pick worthy in Pauper Cube.  It can save a guy destined to die, untap a guy so it can block or just abuse a powerful come into play ability.  While White doesn't have too many come into play effects that are insane, take it and play a multi color deck like every one else.
SOUL MANIPULATION
This card does require some color commitments upfront but the upside to this card is well worth it.  Being able to stop your opponent from casting a guy while at the same time getting the best creature in your graveyard back in your hand is an ability you cant ignore. This a card that Blue and Black do well together, screwing your opponent….twice.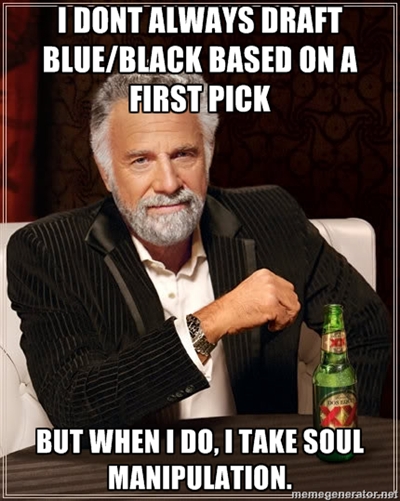 -Stay greedy my friends.
TERMINATE
Here is another card that needs an early color commitment but it deals with any creature of any race, er… color.  This is Doom Blades big brother which does bigger things.  On this list there are a lot of Black and/or Red instants but thats just because those are Wizards favorite colors (Blue who?).  Anyway, take this and all the other good cards that go with those colors.  By doing that you wont have a problem with too many creatures getting in your way.
FEELING OF DREAD
This is a last minute addition while reviewing the cube list again.  I cant believe I overlooked it the first two times as it has multiple functions that can save you or win you the game.  As a top deck, you can tap down 4 creatures to push your army through the trenches and take the beaches at Normandy.  On defense it can be the Dark Knight in shinning armor by keeping guys from attacking you while in a tempo situation.  Even if you don't have blue, taping 2 creatures for 2 mana is still very good for White.
STAGGERSHOCK
This card most of the time takes out two pesky creatures with one awesome card.  Of course you can always go to the dome and nug someone twice for 2 points but thats boring. Why not troll your opponent who is at 2 life and just wipe his army then attack him with two 1/1 creatures…way more satisfying.  Jokes aside, this card can be splashed as red is a core removal color which you need to take early.  I have blow many opponents out when I cast this end of turn, sometimes I don't even get a chance to target before they just scoop.
---
Look for part four which is about Artifacts coming soon.  If anyone wants to see any other top 10 lists for Pauper cube, let me know in the comments.
Adam Arndt
MTGO: AdamRA4