So as you may or may not have heard, it was a Delver overload this past weekend at the StarCityGames Open in Nashville.  Some are shouting "BAN!" while others chalk it up to that regional metagame.  Lets look over the decklists, the future of Delver, and what I think should happen regarding Magic's future on letting an Insectile Aberration loom overhead.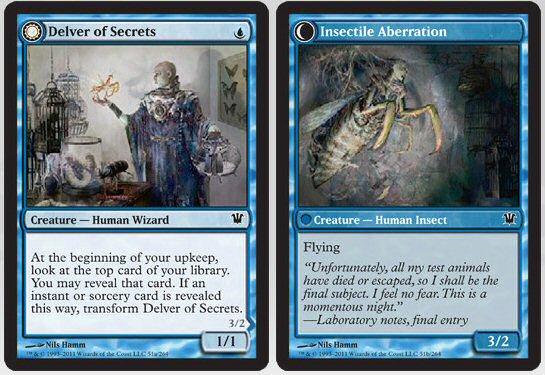 First lets start with the winning decklist:
U/W Delver by Gerry Thompson - 1st @ SCG Nashville

---
Notice anything?  For starters how about 2 Sword of Feast and Famine main with no Sword of War and Peace in sight.  This reminds me of when Sword of FnF broke out after Ben Stark won a Pro Tour with it last year in Paris.  Its back!  Seems like he wanted to make sure he beat the R/G Aggro and the Wolf Run Ramp decks since it doesnt look like too many people are running Lingering Souls anymore.  Could also be that it is the most powerful Sword ever printed in my opinion as forcing your opponent to discard and having double the mana every turn is just sick.  Or he might not own or didnt get to borrow War and Peace.
Moving past the Swords, he is running 3 Restoration Angels.  By looking over the top 8 decklists, it seemed to be the thing to do with every Delver list running 2 or 3 of them.  I felt this card was going to be sick and this deck is just able to abuse it.  Always having a flash wall or basically running 7 Snapcaster Mages is always good.  Gerry is packing a Maindeck Divine Offering which is good for almost any deck as it hits Swords or Mana Artifacts.
In his sideboard he chose to run a few new goodies such as Amass the Components and Ghost Quarter.  I do like that he did not run Batterskull.  I tried Delver with that card and it just seemed so bad in the mirror since Vapor Snag, Snapcaster Mage/Vapor Snag meant it never got to hit.  Amass seems good in the last stages of a game where you and your opponent are top decking.  Ghost Quarter is probably there for the Wolf Run matchup or anything else running Caverns or Kessigs but I dont know if I agree with it fully.
While this list obviously won, there is always room for improvement.  Below is a list I might run at an upcoming large Magic event.
Updated U/W Delver by Adam Arndt

---
I took out the Thought Scours in the main as the deck isnt playing Runechanter's Pike and that was its original purpose was to fuel a larger Pike.  Yes I know it can "fuel" a Snapcaster Mage but I think using your spells twice instead of once is a way better bargin.  I like the split on the Swords because sometimes life gain or protection from Red can be very relevant.
For the sideboard I replaced 1 Phantasmal Image with a Dungeon Geists and both Ghost Quarters with a Spellskite and a Day of Judgment.  I like Spellskite for many reasons, one being it beats most removal, two it stops Kessig Wolf Run, and three it can swerve a Divine Offering, Steel Sabotage, or Vapor Snag.  The Day of Judgment can be an optional card but as a true catch all for creatures, it can really save the Day (and come back for round 2 with a Snapcaster Mage).
As for my thoughts on Banning Delver of Secrets, I think the card is perfectly fine and does not need to get banned.  Every standard cycle  there is one type of deck that does seemingly better than the others (Faeries, Tokens, Jund, Valakut, Caw-Blade, Wolfrun and now Delver).  Each one did have better stats per tournament typically than the rest of the field but that doesnt mean that every time a new card comes out that it needs to be banned just because its seeing play.  There are plenty of answers to Delver currently and before this past tournament there was a swing to Wolfrun and R/G Aggro pushing out the Delver strategy.  Wizards is constantly increasing the power level for all creatures, commons included, and they will continue to do so.  People just need to build a deck with better answers instead of complaining or just jumping on the winning band wagon if we want to see a change.  The trick is when building to always have the best deck in mind and how can your deck beat theirs.  Then test that strategy.  If you don't have a 50/50 matchup, go back to the drawing board.  I feel this past weekend was a region appeal to play U/W Delver and things should be back to normal over the course of the next few weeks.
Adam Arndt
MTGO: AdamRA4