Here is part 2 of my Avacyn Restored Card Speculation of a handful of Mythics and Rares that I think are worth noting.  Some are busted and playable while others are just great Commander or Casual cards.  Like the last time, I talk briefly about each one and gave a price guide to what I think will happen to them.  Lets go!
Here is another addition to Mythic Rites.  She is what you want for an Unburial Rites target as she has a way to protect herself and everything else on your side.  She can be chump blocked by all the Lingering Souls running around but that shouldn't deter you from trying to get her in play as Lingering Souls on your side are just better.  Being an 8/8 she is bigger than most and flies so no need to worry about a creature sneaking by.  Avacyn does die mainly to Geth's Verdict, Liliana of the Veil, Tragic Slip, and Phantasmal Image (or Phyrexian Metamorph).  Two of which will be in the new standard once October comes around.  Avacyn, Angel of Hope is an amazing card that should see play in Standard and Commander but probably not anywhere else.
Price: Preselling for $15.  If an Unburial Rites deck with her takes off then she could possibly go up to about $20 but I wouldn't expect that until later this year IF that was to happen.  She will likely drop to about $8-$10 after a week or two and probably hold their since she is Mythic and an Angel.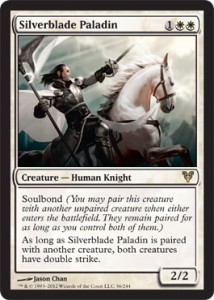 This is the flagship card for Soulbond and its not too shabby.  It will see some play but might not be that good.  The double strike is nice but Silverblade Paladin dies way to easily.  I think for Soulbond to be good on a creature they need to be harder to kill with more junk in the trunk (aka more toughness).  Expect Humans v2 to be a deck when this set drops running some number of these, and watch out for a 4/4 Double Striking Champion of the Parish!
Price: Preselling for $2-$3.  Since this is the Buy-A-Box promo both the promo and the regular version should hover around the same price.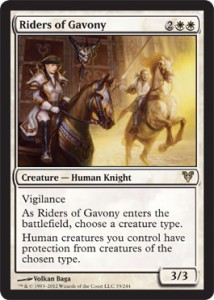 This card is possibly a sideboard card for Humans vs. Zombies.  Its not that good now as Hero of Bladehold ties up the 4 drop spot better but she wont be around forever.  I would at least test this when brewing up new standard decks to give it a shot.
Price: Preselling for $1.  Probably just a bulk rare but seems like it could push through that last little but of damage against tribal decks like Kabira Evangel did for Ally's.  Expect this card to stay around the price it is now.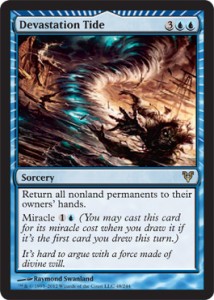 This card screams combo to me.  I'm thinking Devastation Tide + Zombie Infestation….who's with me?  Yea me neither.  All jokes aside, this is one of those cards you either love or hate.  I'm a fan of board wipe but basically resetting a game just drags out the inevitable most of the time.  If your opponent has better cards than you, he will just replay them and you will be stuck again.  If you are ahead you dont want to be casting this.  I cant wait for a Game 1 to go long on camera in a SCG tournament and someone miraculously rips this gem off the top.  We might just see the first table flip on camera for a sanctioned event.  Either way this is the kind of card that could setup for a future card in another block set to get abused.  Definitely a Commander card…for someone who likes to get punched in the face for playing.
Price: Preselling for $2.  Probably end up being a bulk rare since no one really wants to draw game 1 of a match.  I suspect this being around a buck.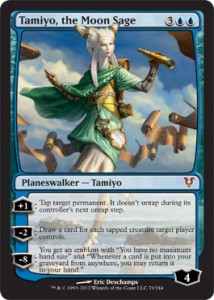 VERY excited about this card.  Ajani Vengeant is back baby!  All the abilities are insane just as Blue most always is.    I can definitely see any control deck running a few of these.  Costing 5 mana just means you can Day of Judgment or Dungeon Geists turn 4, untap, cast this and tap down their only threat or main land.  It is worse against decks with Hexproof but drawing a card or two and fogging for a turn (since they dont want to see this Walker stay on board so they will be attacking it) lets you possibly draw into some answers.  Looks like I will need to find a foil for my Jhoira of the Ghitu commander deck #firstworldproblems.
Price: Preselling for $40.  This card is priced right and will probably just go up.  Since this set will only be drafted for a few short months, I would try to get a set for sure.  Being a Blue Planeswalker never hurt your chances for making money.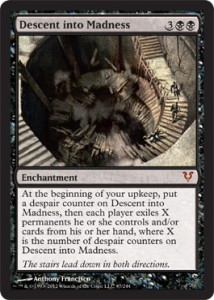 So anyone remember Smokestack?  Yea that card still gets played in Vintage if that tells you anything.  Even though this is Black and cost 1 more it could see some fringe play in Standard similar to Ob Nixilis, the Fallen.  I want to find a way to make this work with Hex Parasite in some way but seems like too much work but who knows.  I was guilty of Playing Ob Nixilis when it first came out so I will likely take a stab at playing this at some point.  Descent into Madness has a powerful ability but it seems like its too much of a niche card.
Price: Preselling for $2 and will likely be a bulk mythic.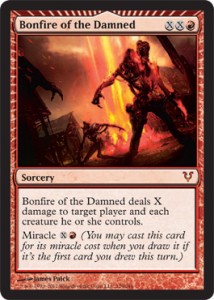 I like this card.  I think this is a great card for R/G Ramp decks as you get to Fireball them and wipe out their board which is what is going on now anyways.  The regular casting cost actually seems fair considering what it does.  If you Miracle it then its obviously just that much better.  Probably wont get played past Standard but will definitely see some play in that format either as a 1 of or in sideboards.
Price: Preselling for $6.  This card will go down in price even though it has an amazing ability.  People will undervalue it just because of its regular cost and will probably sit around $3 after the dust settles.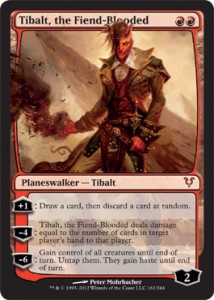 First ever 2 drop Planeswalker and it doesn't disappoint.  Tibalt, the Fiend-Blooded seems best against control where if you are playing Mono Red (likely) you get to draw a card and possibly get rid of extra lands.  All the while you are ticking him up to finish them off with his Stormseeker ability.  His last Ultimate (Insurrection) shouldn't really ever happen as creature decks will run him over before then and control will try to deal with him before they risk losing to a Traitorous Instinct moment.
Price: Preselling for $25.  He's a Planeswalker.  He cost 2.  His price will likely drop to $15-$20 where it will sit until Return to Ravnica.  If Ravnica uses any mechanic similar to Dredge then he will rise in value.  If not then he will go the way of Koth of the Hammer.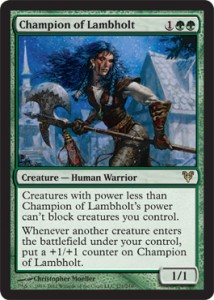 People that I have talked to say they like this guy (girl?).  I agree that the abilities on this card are above average but what I dont like is the Casting Cost/Toughness ratio.  It seems way to fragile and unless you follow it up with a few guys in the same turn it wont really do anything in time to matter.
Price: Preselling for $1-$2.  Dont bank on this card doing much of anything.  Possibly a bulk rare but borderline playable.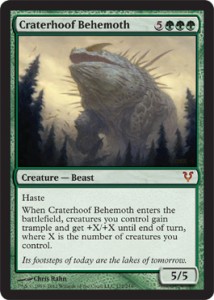 Constructed playable? Probably not.  They did say 6 was too much for the Titans in the beginning and that hardly anyone would play them in multiples but here we are.  Maybe Wizards is thinking we will adapt to 8 becoming the new 6 but that will go over like a lead balloon.  While his ability is game win worthy, I just don't see him doing anything to make him a Standard All-Star.  Plus Triple green….  He might shine in a deck like Elf combo in Legacy where they ramp up to a ridiculous amount of mana.  Unless we see some crazy ramp decks eventually he will probably just be another large Green fatty.
Price: Preselling for $3. Commander will probably keep this guy above a bulk Mythic more so than Standard.  Craterhoof Behemoth will float between $1-$3.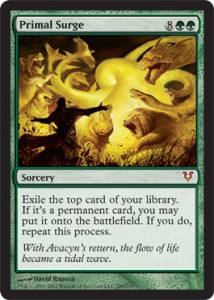 This is a card that wants to do unfair things.  The drawback is if you are playing a mono Green deck then likely your opponent gets to have a turn before you can swing with your army.  They might not have a board wipe every time but that usually has been Green's problem.  They have to over commit to have a board presence and then possibly get blown out by a wrath effect.  On the plus side, if you play Green White ramp and play Avacyn, whats the problem?  I doubt this will see any play except at a local FNM by someone "trying to make it work".
Price: Preselling for $2.  Bulk Mythic, lets move on….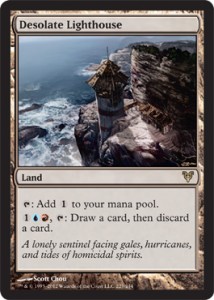 This is a land that might make Burning Vengeance a real deck in Standard.  Merfolk Looter that taps for mana and doesnt die to creature removal is sweet.  Being able to sift through extra lands is a also a huge plus.  I am sure this will be played in Commander as well since its a  card that helps out in the late game.
Price: Preselling for $3.  Its a bluish land.  Will probably dip initially until the core set comes out at which it will rise up to $3-$4 again.  Its a must have land for any URx deck.  Foils will be worth a little more than normal as well probably.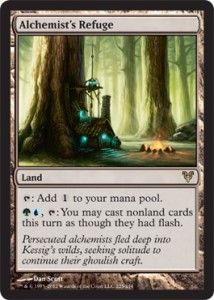 Another really good land with so many uses.  This will keep an opponent on their toes in any game in which you can back it up with some mana.  Imagine flashing in a Primeval Titan, Wurmcoil Engine, or even Dungeon Geists.  I cant wait to see what Conley Woods brews up with this land…
Price: Preselling for $2-$3.  Like the above land, its Bluish.  Get em cheap and wait for them to find a home.  Excellent Commander card so get the foils while they are cheap.
Well those are my opinions on the Mythic and Rare cards that stand out to me (and 1 uncommon).   Full Spoiler List is located here.  Only time will truly tell on any of these but I feel confidant in what I wrote about.  I'm no Jonathan Medina or LSV but I have nailed my share of cards in the past and I hope to provide that same information here.  Share any comments below and look for more articles to come!
MTGO: AdamRA4