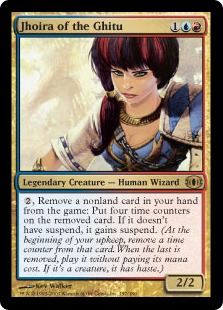 When I first was introduced to Commander (back then known as EDH or Elder Dragon Highlander) I loved playing free-for-all's and this seemed to be a fun upgrade.  Growing up I played cards in a place called Downtown Comics which when it was around was located on Central Avenue in Winter Haven, FL.
I remember sitting around always trying to get 4-6 people for a game while occasionally getting as much as 12!  Since I was a kid I didnt have a job and my lawn cutting service for my neighbor at $5 a week wasnt enough for me to afford the "better" cards people played with but I still had a blast.  There were always the "ringers" or the people who could afford anything and play with the best cards but those days are in the past.  Now its not about building a cool free for all deck but a cool Commander deck which can be for multiplayer or 1v1.  Since I now have a way to make a steady income I started investing in some "good" cards to make a playable and competitive Commadner deck.  Below is my first shot at a Commander deck and after playing it for some time I eventually upgraded most of the cards to Foil or old school Black Border.  I chose Jhoira since she is a cheap General that I can bring out early and start using her very powerful ability, suspend!  Lets check out some of the card choices.


As you can see I dont have any infinite combos in this list as I dislike them greatly.  (RANT) If I know someone is playing infinite combo(s) then I will try to disrupt and/or attack them first.  I feel infinite combos are unfun to a casual game and can ruin someone trying to get into Commander. (END RANT)  That being said, this deck can do unfair things like take 4 turns in a row, Annihilate some permanents, steal things from your opponents or just draw a ton of cards and be able to keep them in your hand.  I do have Counterbalance/Top combo which is not as good as it is in Legacy but still effective against some nuances being played against you.  I have this same deck built on MODO minus Force of Will and maybe 1-2 other cards so I am down to play if anyone challenges me on there. I will try to get some videos up eventually showcasing this deck to see some gameplay. Any questions let me know in the comments!
Adam
MTGO: AdamRA4